... that will make you laugh.
-L

i
ke when right in the middle of the 100% serious, not comical at all, second issue of
Fantastic Four: Atlantis Rising
- randomly, and completely out of nowhere, this just... happens:

The Thing: Comic relief...
-A
nd we all know Ben Grimm is a pretty tough guy! He'd gladly go one-on-one, toe-to-toe, with the likes of Doctor Doom, Annihilus, or Blastaar... But there's only so much one
(cosmically-irradiated, orange, rocky)
man can take: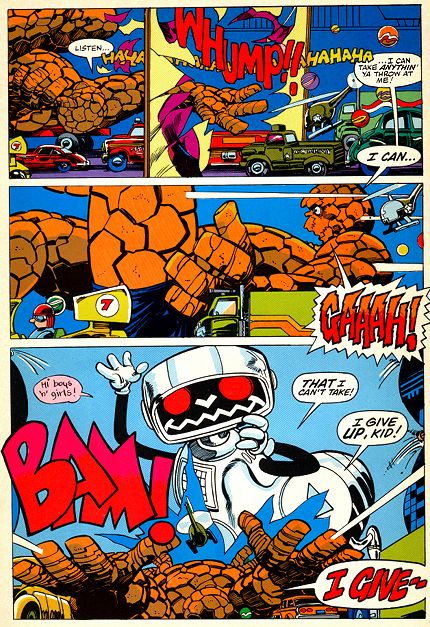 (From Marvel Fanfare #15)
-Can't say I blame him at all, really.
"Hi boys 'n' girls! Don't light yourselves on fire!!!"
I
know, I know- that's an urban-legend.
-Does not mean I hated H.E.R.B.I.E. any less growing up.
S
peaking of Comic-book Urban Legends: How do you think
this
panel plays into the whole
Cerebus/Spider-Ham
controversy?:
B
asically;
Dave Sim
parodied a number of Marvel Comics characters in his comic:
Cerebus.
(Like Wolverine/Wolveroach, Punisher/Punisheroach, Venom/Venomroach, MoonKnight... you see where this is going?)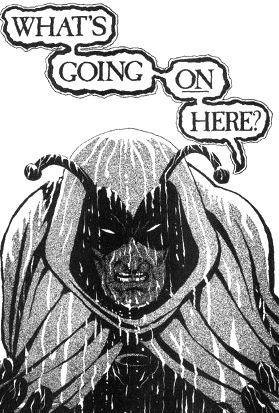 (They were all the same guy, who Dave described as: "...comic books personified!"
It was a really funny bit- you should read it some time!
EVIL! EVIL!! EVIL!!! Hsssss!)
-W
ell, Marvel got all uppity about it. I've heard they attempted to sue him
(or just threatened to)
, but it was well within his legal rights to use these characters as parody. They did, for sure, have their lawyers send off a cease and desist letter at some point in 1983, though.
Needless to say- Mr. Sim got right on that. *sarcasm*
The Comic Book Urban Legend is that Marvel specifically made Peter Porker, The Spectacular Spider-Ham as a rip-off of Cerebus (looks-wise, at least) as a way to get back at/piss off Dave Sim shortly afterwards. As if to say: "You want to play cute, we can play cute too."
So- is this another jab at Sim from a bitter Marvel? -Saying Cerebus is just a rip-off of, or equivalent to, Miss Piggy of The Muppets?? Or is it, more than likely, a good-natured ribbing by Barry Windsor-Smith to his friend and colleague???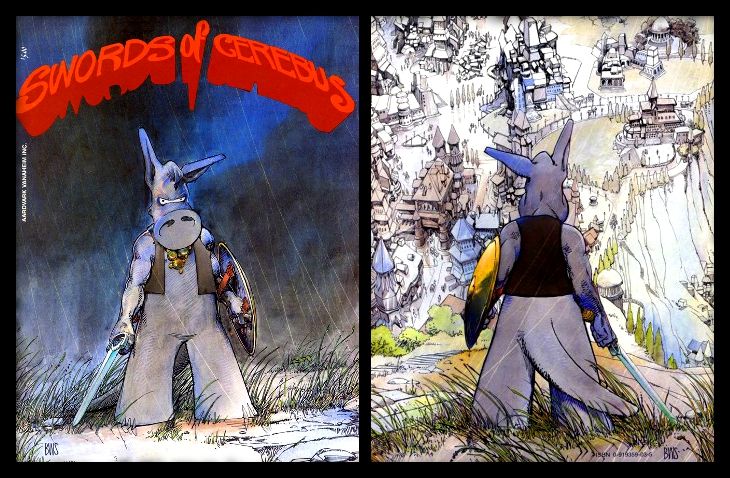 ~Of course I'ma say the latter... They really are friends, and have worked together several times. It's still funny, though!
A
nd, clearly- there are no hard feelings with
Marvel: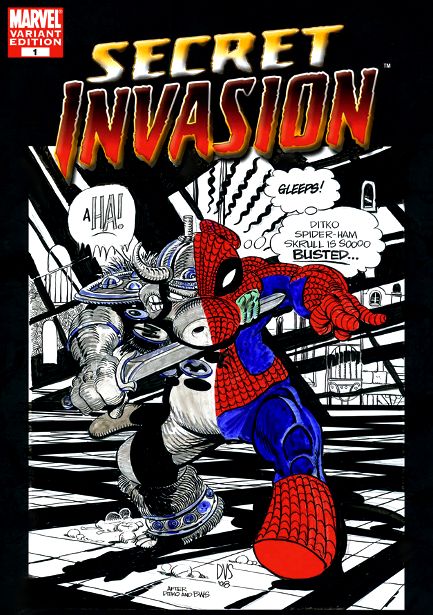 -This original art, done by Dave Sim, Barry Windsor-Smith, & Steve Ditko, sold (for charity, I believe) on eBay for $1,513 in 2008.